MTL Advanced is one of the largest contract manufacturers and stockists of Hardox/Raex Abrasion Resistant steel in the UK, commonly used in the farm and earth moving machinery industries.
We operate  from our 28,000 sq. meters of manufacturing space, which is set in 13 hectares of private land in Rotherham, South Yorkshire. We are well placed to provide a one-stop-shop manufacturing solution to customers in the Agriculture industry.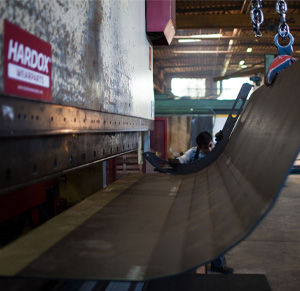 We profile, fabricate & paint the following parts for the agricultural industry:
> Agricultural Tractors
> Combine Harvesters
> Buckets & Attachments
> Cultivators & Seeders
> Ploughs
> Hoppers & Grain Silos
> Bale Handlers
> Dump Trailers
> Feed Barriers
> Compact Track Loaders
We are proud to be the largest Hardox Wearparts Centre in the UK. We can offer customers a fast turnaround due to our extensive stock on site in all grades and thicknesses. We can offer expert advice with an on-site visit to discuss your wearplate requirements and help in the design optimisation stage of the project.
Due to our extensive manufacturing capabilities we can machine up to 700HB, press parts up to 7.2m in length and waterjet cut Hardox to avoid a Heat Affected Zone (HAZ).