Press Braking
Press braking, also known as pressing, bending and forming, is the process of manipulating the shape of a metal sheet through introducing bends.
We have a wide range of CNC press braking equipment, capable of pressing components up to 7.2m wide and have invested in 2 Ursviken 640 tonne CNC press brakes, one of which has a 600 Kg capacity robotic handling system. We able to press parts up to 60mm thick.
This press braking system is one of the largest installations of its kind in the world and allows MTL to produce components more accurately, quicker and more cost-effectively than traditional methods. This robotic press braking system, which reduces the number of welds during fabrication, accompanies our existing equipment and significantly increases our capacity.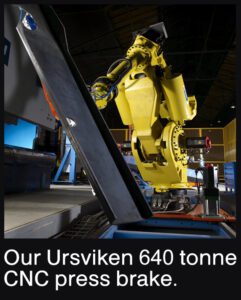 Our press braking equipment is capable of pressing high tensile materials, forming in multiple positions creating complex shapes. Over the last 15 years mtl has developed specialist tooling to press high strength steel and wear plate to very tight radii.
Due to our large capacity, we can offer a wide range of services to our customer base, from one off prototypes to high-volume production runs all with a fast turnaround.
We utilise the latest CNC technology to enable us to manufacture detailed components whilst the press brake monitors and adjusts the bending force to guarantee that the bend is consistent across the length of the material.
MTL is recognised as a world leader in cold forming steel and aluminium plate, particularly when forming Hardox, armoured steel and armoured aluminium. The process involves zero heat input and does not affect mechanical properties.
We can optimise a customer's design to reduce the amount of weld; this is particularly advantageous in the defence sector as it has many safety benefits. A component can be made lighter, stronger and at a lower cost through eliminating any unnecessary welding.
For any press braking enquiries or for further information please call us on +44 (0)114 261 7979 or send enquiries to enquiries@mtladv.com