Oil & Gas, Subsea.
MTL is a global supplier of secondary steelwork. Our extensive tubular cutting and profiling capability enables us to supply competitive volume fabrication for the offshore and renewables secondary steel market. We are trusted with multi-million pound contracts with leading industry experts in the offshore and renewables sector. Our projects include boat landing systems, wind turbine cranes, plate beams and working platforms. All work is completed under a system of HSE management, designed to ensure compliance with the law and achieve ongoing performance improvement.
As offshore manufacturing constantly evolves in both size and complexity, our continued investment in the latest state-of-the-art technology means that we can always provide a comprehensive one-stop-service.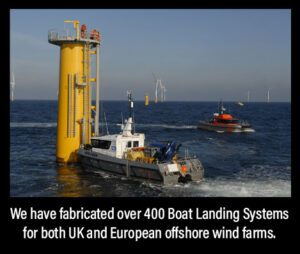 From specializing in the machining of valve flanges to subsea connectors and pipeline recovery tools, we are well placed to accommodate the demands of projects both large and small.
MTL has produced over 400 Boat Landing Systems for both UK and European offshore wind farms. These include, Nordsee Ost, Borkum West, Ormonde, and most recently Humber Gateway.
Working to BS/EN 1090 standards and a wide range of modern fabrication equipment including robotic welding, we provide MIG, TIG and arc coded welding services as well as large machined fabrication.
Please download our Offshore and Renewables brochure to learn more about our stock materials, fabrication services and industry expertise.