MTL Advanced is a dynamic, fast moving technology-based contract manufacturing specialist in the metal sector.
Based at a 300,000 sq. ft. facility in South Yorkshire, with an extensive range of technology and equipment available, we provide services to a range of large OEM's from leading industries including defence and security, construction and quarrying, recycling and rail.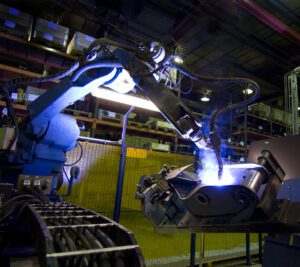 We are one of the few profiling companies in the UK to offer four different cutting methods under one roof; laser cutting of material up to 25mm thick, waterjet cutting up to 200mm thick, High Definition Plasma Cutting of components up to 50mm thick and flame cutting.
In addition to our extensive profiling capabilities, we also offer tube cutting up to 120mm – 1000mm diameter as well as a range of other engineering services. This includes welding/fabrication with a total of 11 robotic welding cells available across the Group, as well as CNC machining and CNC press braking equipment capable of pressing components up to 7.2m wide.
Our 2 Ursviken 640 tonne CNC press brakes, one of which has a 600 Kg capacity robotic handling system, can press parts up to 60mm thick.
These engineering services complement our in-house shot blasting and wet painting capabilities.
Our Design for Manufacture team has over 25 years' experience utilising the latest design and simulation software, which can accommodate Catia, Solidworks, Inventor etc.
The service allows us to provide customers in a range of industries with the fast turnaround they they require. Since launching the DFM service, it has improved functionality and manufacturability as well as providing significant cost savings for customers.
We hold a vast range of stock plate material in-house, whether it be for meeting a ballistic threat level specification to relining a bucket from Hardox plate. Our relationship with the major steel mills in both Europe and the USA allows us to respond quickly to our customers' requirements using some of the best materials on the market.
As the largest Hardox Wearparts Centre in the UK, we have a wealth of experience in manufacturing parts from abrasive resistant and high-strength steels, working on even the most demanding applications.
To discuss your contract manufacturing requirements, please contact us on +44 (0)114 261 7979 or email contact@mtladv.com.